Shadow-Boxes by Bloom
Custom made Shadow Box memorials. Only $1.00 per diagonal inch for my artistic touch when you supply all materials, shipping, and other expenses. We have owned and operated an FTD Florist for over 10 years. We are experienced with dried, silk, fresh flowers however you will not want "fresh"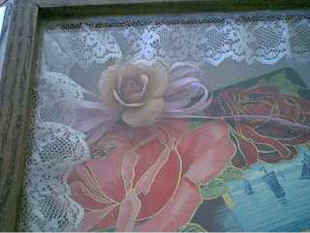 flowers in a Shadow-Box. Wedding memorabilia, baptism, marriage, graduation, certificate, keep sakes, bridal heirlooms, letters, post cards, wall hangings, antiques, treasures, and almost anything which you wish to display and keep the dust and little fingers away from. These are excellent items to put in Shadow Boxes.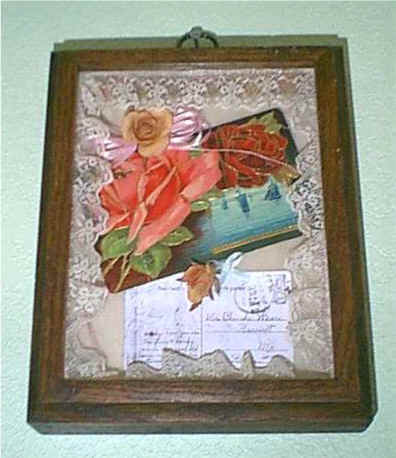 This 7" by 9" Shadow Box measures 12" diagonally when rounding up to the next inch.
$13.00 of materials plus the $12.00 creation charge and shipping estimated at $9.00 in the Continental USA makes your total cost $34.
This dark wood box is 2" deep scalloped trim, hanger at top. This is 3 dimensional art inside glass a full color trimmed in gold embossed German Made postcard post marked 1909, photocopy of hidden side below. Features two real dried roses some ribbon all laying on a soft see through veil netting cloth. The complete sides are trimmed in lace adding to the 3 dimensional look of this beautiful motif. The photograph here does not do it justice because of our low resolution camera, sorry.
This is an original and only one available. Just as with any Shadow Boxes I design, create, and make for the enjoyment of remembering those special evidents.
Baby Announcements, Wedding Announcements, Marriage Licenses, anything
I also dry wedding bouquets and put them in glass domes for display on a table or shelf. The Wedding Announcement can also be put in as a background to the flowers. With the glass globe or dome it can be seen from all sides and is very beautiful. Creation fee for glass domes is only $3 per inch of total height of containor, customer paying all expenses as above..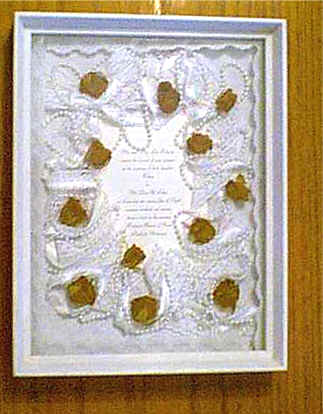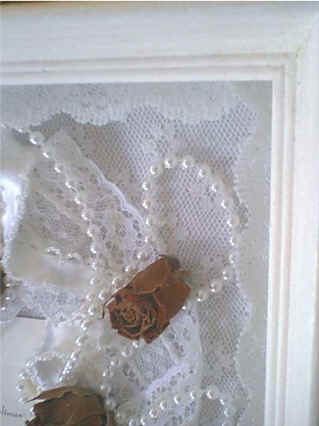 Actual size on the right of the upper right hand corner.
Here is an example of a Wedding Announcement. This Shadow Box is a shallow 1" behind the glass with a 1" shaped and trimmed extension beyond the glass.
Everything is laid on a decorative pattern net lace featuring 12 real dried rose buds the bride once held running with white ribbon trimmed in additional lace and pearl beaded necklace then a sculptured lace around the entire edge of this medium size box measuring 10 X 13 with a diagonal measurement of 16.
Something for a bride to always cherish by hanging on the wall of her home or bedroom.

online casino