Quilts - Mennonite / Amish Hand-Made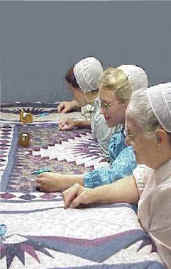 Our Quilts are made right here in America. Hand-made in Mennonite / Amish homes with love and meticulously done. Caring, little tiny stitches, exclusively done by hand right here in our Ozark Mountain neighborhood. Made the old fashioned way, the lasting tradition, by far superior to those done in foreign countries by mass production. You have probably heard the saying, "you get what you pay for," with quilts that's a true saying according to those with an eye for excellence. We think with our quilts you will get MORE than what you paid for. We have seen quilts priced as much as three times our premium quality. So if you are looking for wholesale prices to the public you have found us. Plus you are getting top quality, exquisitely done, one of a kind, unique quilts, at large savings. You have come to the right place. These quilts are sewn by people you can trust. Buy with confidence: We GUARANTEE your SATISFACTION with a 24 hour (in your home) inspection/notification with right to return the quilt (undamaged) to us for a full refund or exchange of the quilt price only (sorry - but guarantee does not cover shipping charges). If you want send us a roll of 35mm film and we will take several photographs of up to three different selections, when you send a good faith deposit of three hundred dollars with your roll of 35mm 200SAE film. We will return the film to you. Then make your selection based on the pictures and send the balance. (Note we can not hold the quilts so time is of the essence.) If you change your mind we will refund your deposit in full. We do business the old fashioned way, Money Order or Cashiers Check, and we send your quilt to become a part of your families heirloom for ever. A unique treasure for generations to come that will appreciate the fine authentic American workmanship. All quilt sales are on a first come first serve basis until funds are received (please don't ask us to hold one unless you have already seen the pictures and have Three hundred dollars on deposit). We will then hold for two days per phone call while you Express Mail the balance.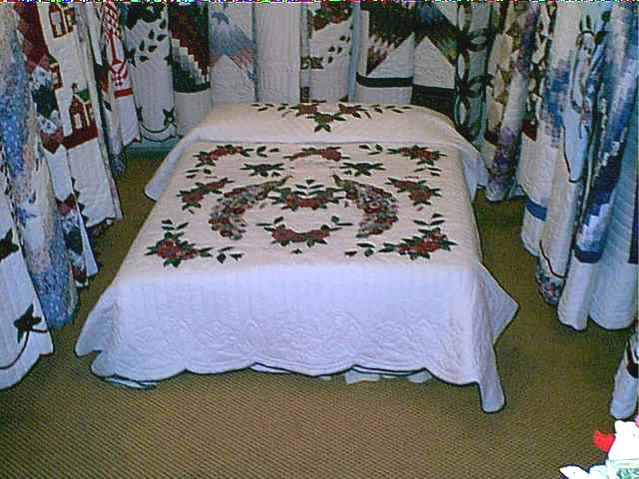 We have in Stock over 100 Quilts for you to choose from
Baby Crib Quilts Click to the left or below to see them
Quilt Rooms Featuring Queen Size Quilts
Quilt Rooms Featuring King Size Quilts
Questions? E-mail us at: dale@basicisp.net
To our garment selection page, click here.
Go to our Home Page We do custom sewing
Straight from the Missouri Ozark Mountains, Heirloom Quilts, hand sewn by Mennonite and Amish families as a tradition since America produced quality, old fashioned, treasures of fine workmanship which is superior and long lasting to many generations. Tiny little stitches hold each quilt together with love in a unique way, an American tradition, authentic to the last stitch. A treasure for your family to enjoy and be proud of because of the excellent value of a exquisitely done QUILT done right the first time. Our Quilts will make you happy.

online casino