Modest SwimWear
Around 1901, swim wear was modest and stylish. Featuring a knee-length dress over matching bloomers, i.e. Modest Swimwear. The swim-dress has elastic in the sleeves to prevent them from floating up; there is also elastic in the waist to hold this heic to jpg; the bloomers can be any length you want. Some of my daughters prefer to have the bloomers just below the knees and others like them a little longer. The belt is optional, it is mainly for looks. We don't use it, but would be happy to make one for you.
Girls Size 2 to 6 4&1/2 yards $22 Std. Cut*, $41 Custom Fit
Girls Size 7 to 14 5&1/2 yards $25 Std. Cut*, $45 Custom Fit
Wait and Listen for the Tide to Come in - Continuous Ocean Waves after fully loaded
Ladies Size 6 to 12 6 yards $27 Std. Cut*, $47 Custom Fit
Ladies Size 14 - 24 8 yards $29 Std. Cut*, $49 Custom Fit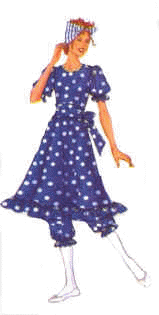 .
***Standard Cut* Notions required for each suit ordered, large thread, one package 3/8" Elastic,
and one package 1/4" elastic, adults 22" zipper, children 14" or 16" zipper.
What is the difference between CUSTOM FITTED Pricing and STANDARD CUT SIZE Pricing? Click here to find out in detail.
.
Order Sheet, terms, and conditions to order
Swim Fabric Selection - a good heavy 100% cotton (not denim) - I mean thicker instead of thin (light weight) material. in the quilting section. Also medium weight 100% polyesters actually works the BEST from our experience --- but don't get thin or stretchy polyester. Remember 100% cotton will require Preshrinking & ironing out some wrinkles after washing.
Nursing Swimwear - A cape to the dress bodice and the slits are under the cape. This is the only way I know where a lady could nurse with no one else seeing. $10.00 for nursing option, we would supply 2 zippers in slits. (Be sure to specify on order).

Is our Size Chart confusing you? If so, click here.