ROBES custom made
Luxurious Church, Choir, Baptismal and home bedroom robes available.
Lydia of Purple custom sews robes by your pattern or ours. Cozy, comfortable, relaxing and warm with ease of movement is the best description of a nice loose fitting robe. Whether your needs are social or private we can make and sew a robe to your liking. If you don't the pattern below that fits your desire just buy it and we will sew it... We are able to sew any pattern and costs will vary depending on the complexity.
Upper left hand corner Ideal for lounging, bathrobe, even baptismal robe. ROBE - loose fitting, floor length, 22" front zipper for easy on and off, right seam pocket. All sizes men send 6 yards fabric and women send 5 yards fabric + optional trim 5 yards (shown in Gold on ladies robe around neck line, over front bodice area, sleeve edges also optional 5 tassels. Order# VO74 Robe
Standard Cut Price $23.00+ fabric+options+notions: 22" zipper and large spool thread or add $5.for notions
Custom Fitted Price $39.00+fabric+options, and we supply the notions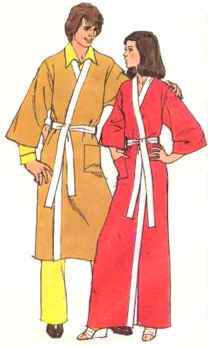 His and Her Robe order#S107
Fronts over lap and edges are trimmed in contrasting fabric. Loose fitting
All sizes men and women
Knee length 4 yards fabric
Floor length 4&1/2 yds. fabric
Standard Cut Price $19.00+fabric+thread
Custom Fitted Price $35.00+fabric
Collar "E" Contrasting Robe Collar "F" Collar "D"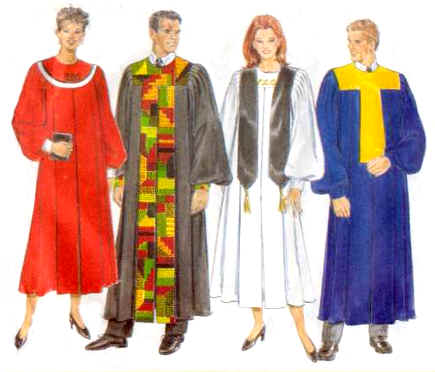 Formal Church Robes comfortable, relaxing and very loose fitting for ease of movement, above ankles, front & back pleats, zipper hidden in front pleat, long pleated sleeves with cuffs. Black robe has contrasting fabric around neck and down front. All the rest have detachable collars. All sizes men and women. Fabric needed for all sizes 7&1/2 yards, add 2 yards contrasting fabric for contrasting Robe option, also add 1/2 yard contrasting fabric for contrasting cuffs, add 1&1/2 yard fabric for each collar ordered by letter code above, send tassels if desired.
Standard Cut Robe Price $25.00+fabric+options+add $6.00 for numerous notions list
Custom Fitted Robe Price $48.00 + fabric + options, we supply the many notions here
For each Detachable Collar Ordered send $12.00 each + fabric desired
.
What is the difference between CUSTOM FITTED Pricing and STANDARD CUT SIZE Pricing? Click here to find out in detail.
.
Be sure to bookmark our site or place it in your favorites for future easy reference.
If all else fails just remember to search for "Lydia of Purple".

Flannel Night Gowns Winter

Look-a-Like Family member Matching Clothing

and lots more at our home page, click below:

Back to Home Page Complete Custom Sewing for Ladies
online casino